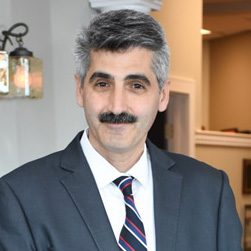 Chiropractor
Rashid Abu-Shanab D.C.
Dr. Shanab earned his Doctorate degree from National University of Health Sciences (NUHS) in Lombard, IL in 1997. Following graduation, Dr. Shanab was appointed to a faculty member position, which he held until 2000.
Dr. Abu-Shanab has been helping people live pain-free since he opened his clinic in Bridgeview, IL 60455 in 1998.
As a chiropractor with experience, he is committed to promoting health and living a life drug-free. Dr. Abu-Shanab has been a licensed Chiropractor since 1997. He has been the Director of Bridgeview Chiropractic since 1998, Director of Chicago Spinal Center, Chicago, IL from 2000 to 2002, and Director of Integrative Health Associates, in Romeoville, since 2003. He recently added to Orland Chiropractic Center. He is the Clinic Director for all three locations.
Dr. Shanab constantly strives to give his patients the most up-to-date care possible, attends many post-graduate seminars, on such topics as nutrition, chiropractic, independent medical examiner, acupuncture, and manipulation under anesthesia. He is a member of NUHS Alumni Association, the Illinois Chiropractic Society, and the Bridgeview, Orland Park, Oak Lawn, and Romeoville Chambers of Commerce. He earned his Masters of Science degree from Lincoln College Postgrad through the National University of Health Sciences Special interest in Advanced Clinical Practice of Chiropractic Medicine.
OFFICE HOURS
Monday
9:00am - 7:00pm

---
Tuesday
9:00am - 3:00pm
---
Wednesday
9:00am - 7:00pm
---
Thursday
9:00am - 3:00pm
---
Friday
9:00am - 7:00pm
---
Saturday
9:00am - 1:00pm